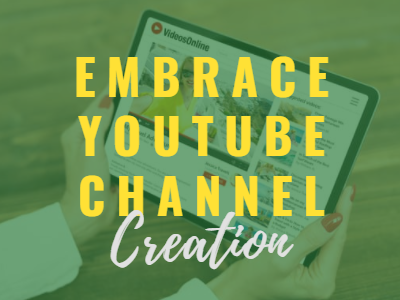 Are you too busy to manage your YouTube channel?
Are you aware of what YouTube can do for your business but short on time to execute?
Are you tired of placing it on your to-do list?
Huge Benefits
A properly optimized channel and videos will get you seen by your ideal audience while you sleep.
Who is this for?
If you're an entrepreneur, coach, consultant, expert, strategist, writer, thought leader, speaker,
Go from Confusion to Clarity
If you are stuck at the starting line and just plain confused as to what videos to upload, when to upload them and how to get them seen
Plans and Pricing
If you're only interested in getting your channel started off on the right foot and you can handle the monthly maintenance on your own, then Channel Creation Only is for you.
Channel Creation Only
Channel setup, transfer and verification assistance

YouTube competitive analysis

Research and identify niche keywords

Channel optimization

Branded channel art that will match your branding and your channel's purpose

Setting up your channel's homepage with your provided welcome trailer

[2] Half-hour 1:1 video strategy consultations conducted at the beginning and end of the project
Prices are subject to change without prior notification.
What Our Customers Are Saying
Don't just take it from us, let our customers do the talking!
"I got a tricked-out YouTube channel (thanks to Edie Clarke of Virtually in Sync. She helped me every step of the way. I can't recommend her enough!)"
"Edie helped me determine the best video content suited for me and my business and how often I needed to post it to my channel. Within one month of working with Edie consistently, (I signed up for Embrace Video &YouTube), I got my first high-paying client from YouTube. That's the fastest I've ever gotten that kind of ROI from marketing."
"Huge shout out to Edie for helping me. I'm not a tech person so when I started working with Edie, she had such a calming voice and was so reassuring that I could do everything that I needed to do.  She showed me how to use YouTube on my own and now I'm getting my feet wet with all this tech stuff."
How Will We Work Together
First, you'll book a strategy session with me so we can discuss your goals for your channel and the type of content you would like to feature on it. During our call, we will discuss in detail possible video content ideas, your primary keywords, branding assets, and how often you wish to create your content.
Based on this call, I'll conduct research on your niche to determine the best topics that will resonate with your ideal audience to ensure they rank on Google and YouTube.
Next, you'll provide all brand assets needed to create or revamp your channel art and custom thumbnails.
Another session will be set in order to complete your channel setup, transfer, and verification process (if applicable) and to discuss your production setup.
Next, it's video creation time and that's where you come in. Based on script templates I'll provide to you, you'll record the number of videos you committed to creating and then upload them to our shared DropBox.
Then, I'll optimize your videos, which means I'll write out your keyword sensitive title, description, create a custom thumbnail, add info cards, add an end screen, and add to the appropriate playlist.
Once your videos are published, within the first 48-72 hours you will be instructed to perform specific duties and we'll both share your videos on platforms where your ideal audience is spending time.
A review of your channels analytics will be provided to you so you can see how your content is performing and where tweaks and changes will need to be made.
Additionally, every month you'll receive a reminder email designed to keep you on track for creating your monthly video requirements.
Don't Be Shy
Need more info? Book a free 20-minute call and learn if this is right for you.