What a blast! I'm talking about this year's Keys to Digital Marketing Success. This year was my second year in a row to participate in the event. And it was my honor to speak on "YouTube for Business, A Case Study."
What the Keys to Digital Marketing Success Event Is
The Keys to Digital Marketing Success Event is a small business marketing boot camp for marketing directors, marketing managers, social media strategists, content creators, small business owners, and entrepreneurs. It's held annually in the Chicagoland area.
Since they grew a little bigger this year, they expanded their educational sessions. The sessions included four master classes in addition to 12 educational sessions.
How I Participated in This Year's Event
In my presentation, "YouTube for Business, a Case Study," I spoke on how one of my clients grew her channel from about 1200 subscribers to almost 30,000 subscribers today. We accomplished this in less than one year from the time we started working together. Then I broke down the five areas that we focused on in order to grow her channel exponentially.
In addition to presenting, I participated in a live panel, called "'Go Live', Facebook, YouTube, and Instagram." We discussed and answered questions in a room packed full entrepreneurs who were interested in learning the advantages and methods of Live Streaming on Facebook, YouTube, and Instagram.
Others Who Presented at This Year's Event
I then had the opportunity to sit in on and learn a ton from a few others.
Vanessa Cabrera's Instagram Masterclass – The Instagram Advantage: Understanding Why Hashtags Matter, Instagram Stories
Since I have been procrastinating to take on Instagram for like forever and didn't understand how to make the most of it, I sat in on Vanessa's masterclass. And boy, did I learn a bunch! During her class, I learned two things in particular that have been extremely helpful:
1. How to create the right hashtags on Instagram. I created two sets that I can use whenever I upload new content to the platform.
2. About a new app called SmartHash
Elijah Litscher's SEO Masterclass – Practical SEO for 2019
Eli gave me an overall understanding of SEO for 2019. He also gave tips and the best approaches to use. It was a great refresher for me since I don't focus on SEO for my website like I should.
Q&A Panel on Social Media Marketing with panelists Virginia Weiskopf, Elaine Rau of LadyBoss Blogger, and Elijah Litscher of The Loop Marketing.
This informative panel discussed everything from the pros and cons of using social media to which platforms are best for your business, and so much more. They did an excellent job of answering a wide scope of varying questions from the audience.
My Take on This Year's Keys to Digital Marketing Success Event 2019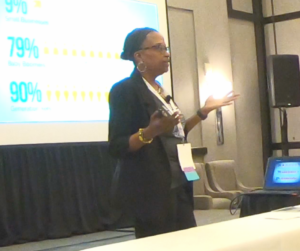 All in all, the Keys to Digital Marketing Success Event 2019 was a wonderful experience! And it's a great opportunity for me to get out and meet YouTube newbies who are struggling with understanding exactly how to use YouTube.
I absolutely loved meeting the attendees in person and being able to talk with them about YouTube.
With Gratitude to All
I want to take this opportunity to thank all who attended my presentation on YouTube and the Go Live panel. And I can't go without saying thank you to each person who attended the event. It was wonderful meeting all of you who I met in the VIP room, in my sessions, and just walking about.
I'd also like to give a special shout out and thanks to Event producer, Virginia Weiskopf, and her amazing team, Miriam Micu, Kelly Carpenter, and Leslie Church
And in Closing …
Did you attend this year's Keys to Digital Marketing Success Event? Are you ready to embrace YouTube? I highly recommend you sign up for my free Embrace YouTube toolkit. This toolkit is valuable because:
1. It answers the questions that will help you create the best content for your audience
2. Provides you with the next steps to take to confirm that decision
3. Helps you craft your first YouTube video script with a script template
If you're ready to embrace YouTube now, grab your free copy of my Embrace YouTube Toolkit HERE.
Then, contact me, Edie Clarke, Video and YouTube Strategist, of edieclarke.com and put the benefits of video marketing to work for you today.
Grab your Welcome Tool Kit Now!
Sign up to get your copy of the Video Kickstarters! Welcome and Video Creation Tool Kit and stick around to get my latest content about video and video marketing by email.