Nowadays, when you mean business with your business, video production is a must! So let me share with you some of the equipment and tools you need to create your videos.
The Equipment You Need to Create Your Videos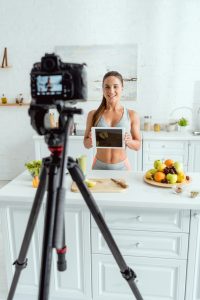 Cameras
First, you'll need a camera to create your videos. My husband and I had a production company at one point, so I have access to expensive cameras. But I prefer to use the same tools I recommend to my clients and colleagues. And since some of you have small budgets, I recommend using the camera you already have at your disposal, your smartphone.
I also use a Logitech C920 HD Webcam. It's perfect for Livestreams or creating custom videos from your desk.
Audio
Audio is the next and most important part of video production.
I use two different methods to record audio. And what I use depends on which camera I'm using.
When I use my iPhone, I use the Rode smartLav+ Omnidirectional Lavalier Microphone for iPhone and Smartphones. It captures really great quality. I'm not usually far away from my camera when I'm using it on my iPhone, so the mic works fine. But you can always get an extension cord if you need if you plan to be more than say 3-4 feet from your camera. Because it's a lavalier mic, it captures really good audio even if there are little external wind and other noises.
The second type of mic I use is my desktop microphone. I use Audio-Technica AT2020USB+ when I'm using my webcam. It's great to use because it's a USB microphone that plugs right into your computer's USB port as opposed to your microphone jack.
There are other microphones that will work as well for you. I also recommend the Blue Yeti and Blue Snowball. They range in price from $50 for the Snowball to as much as $200 for the Blue Yeti.
Lights
Next on the list of what you need to create your videos is lights. With lights, you have two options: free or not free.
The free option uses natural daylight. All that natural daylight requires is that you position yourself in front of a light source such as a window.
But if that's not possible, then I highly recommend using a diva light. A diva light is a ring light that you can position directly in front of your camera with your camera in the center of it.
Background
Backgrounds really pertain to wherever you are when filming your videos. My home office or I should say my bedroom, was my place to film for a long time. So if you see some of my earlier Livestreams from a few years ago, you will see my chest of drawers and a secretary behind me. It looked somewhat unprofessional, but at the time that was all I had.
I highly recommend putting up a background if you are filming in a room where there's clutter or something that will distract the viewer's attention. These backgrounds can literally range from paper to cloth. Or you can get photographic backgrounds. Photographic backgrounds are collapsible backdrops that photographers use. They're easy to open and somewhat easy to close.
You can get any kind of background you want depending on what your budget is and the space available to you. Your choice will require you to plan ahead though. Are you hanging the paper or cloth up on a wall that has a bunch of pictures on it or is this going to be a standalone backdrop? If you choose to use a standalone backdrop, you may need poles for it to be clamped onto or hung from.
To view the list of products that I use as well as products I recommend, check out my Amazon store.
Create Your Videos or Invest in Remote Video Creation
According to Vidyard's 2019 State of Video Report, video production is a must, especially if want to take your business to the next level. But if you haven't yet committed to investing in creating videos for whatever reason, consider partnering with a trusted video production agency or freelancer who can help you create engaging videos for your business and manage your YouTube channel if you need that service provided for you as well.
I'm sure you're wondering,  how do I create videos without it taking up all my time or costing me a small fortune?
Well, that's where my newest service comes in…
With Remote Video Creation, there's no need for you to hire a production crew in your local area! I record your YouTube, training videos, or social media videos for you and deliver them to you quickly and affordably.
Remote Video Creation allows you to work with me to create HD quality videos using your smartphone or computer webcam. I guide you through the process of directing your entire video shoot, giving you live feedback as you are filming your video.
Wouldn't you like to know your video shoot is scheduled on a specific day each month or quarter and that all your videos will be recorded at one time? No more trying to figure out each week when you'll record or that you must cancel a recording due to a conflict.
Wouldn't you like to capture your client testimonials easily in a consistent format and look?
Sound interesting?
If your answer is yes, then Remote Video Creation is for you!
With Remote Video Creation, you'll bulk record your videos the right way, gain confidence in knowing your videos are recorded correctly, and obtain a consistent quality and look to your videos. And I'll be right there with you every step of the way … remotely of course.
You can use my Remote Video Creation service to record your video content for YouTube, social media, b-roll (additional or supplemental) footage, training and onboarding videos, client testimonials, and anything else you can think of.
Remote Video Creation Includes:
Up to 3 hours of remote recording
Remote video direction which includes

Shot framing
Smartphone or webcam camera control
Video file management
Audio and lighting adjustment
Uploading script for teleprompter use (if required)

Up to 8 videos (5-10 minutes in length)

Video editing
Titles and graphics
Intro/Outro and CTA
Captioning (at an additional cost)
Requirements for Remote Video Creation Shoots
iPhone 7 or newer, latest iOS, (WI-FI Enabled & Fully Charged) or an HD webcam (Logitech)
A tripod
Microphone (Lavalier, USB or Shotgun)
Remote Video Creation is the most efficient and affordable way for you to create your videos for YouTube and video marketing purposes. This service saves you the headache and keeps you from the added expense associated with hiring a local videographer.
Ready to Get Started?
Book a discovery video session with me today! We'll discuss your video needs in detail. And we'll make sure Embrace Video Recording and I are a good fit for you and your business.
You can create your videos without going broke! Sign up for Remote Video Creation now. Contact me, Edie Clarke of edieclarke.com, to create your videos for you with Remote Video Creation.
And please, join my Facebook Group to share your videos and comments.
Grab your Welcome Tool Kit Now!
Sign up to get your copy of the Video Kickstarters! Welcome and Video Creation Tool Kit and stick around to get my latest content about video and video marketing by email.