Let me help YOU!
Here's a look at a few of the ways I can help you.
Remote Video Creation Services
Not a Video Expert? Then create professional videos with Remote Video Creation.
Making video content doesn't have to be a hassle. As an owner of a business, you're expected to invest in video content. Let us handle the hard work!

Embrace YouTube Services
YouTube is not just a place for funny cat videos guys! It's an amazing tool for entrepreneurs who want to make more sales, boost visibility and achieve their success. I know what it's like running your own business – you work 24/7 to keep the wheels turning and sometimes have precious little time to think about anything else. With our YouTube Services, we'll take care of everything: creating to managing those compelling videos that create successful new leads for your business!

Video Kickstarters! Strategy Session
Do you struggle with video creation or video marketing? Do your videos have trouble finding a way to stand out against the competition? Well, then Edie Clarke, creator of Video Kickstarter Plan is here to help. !
Jump into:
1) A live Zoom strategy session from anywhere in the world
2) A focused recorded 90-minute session that'll tackle your specific video needs
3) Templates, checklists, and guides to show you what to do and how to do it
4) 30 days of follow-up video email support and accountability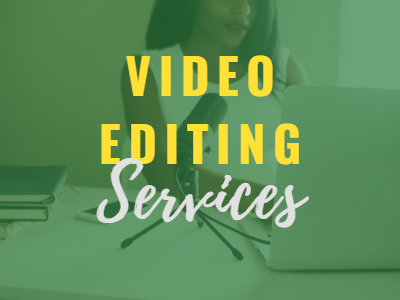 Video Editing Services
Even the best videos often need a little editing – whether it's a cut here or an adjustment there. Save yourself some time and let us do all of the tedious video slicing and dicing for you – faster than ever!