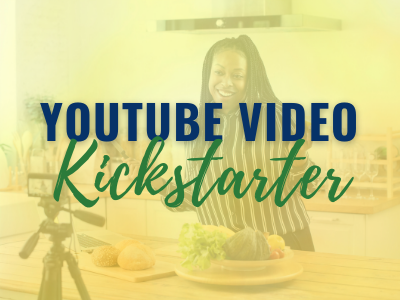 Creating videos doesn't have to be hard. With this YouTube Video Kickstarter service, you'll get a remote videographer who will create 2 high-quality videos for your business without it taking forever (1-2 hours max) or breaking the bank.
– No travel expenses
– No expensive filming equipment required
– We do all the work!
What does this package include:
I created this package to provide an immersive experience of my remote video services without the commitment of subscribing to a monthly subscription.
This package will provide you with a stress-free and relaxed video creation experience where all the stuff you hate doing is done for you.  All you have to do is draft what you want to say and show up on film day.
This starter package includes everything you need to create two amazing videos for your business or brand including strategy and research, filming services (remotely), video editing and upload to YouTube, if needed.
This YouTube Video Kickstarter package is for you if:
You've been waiting for the right time to get started.

You want to create videos to market your business.

You have a budget for video marketing but you're not sure what you need to do.

You need guidance on how to create the right videos for your business.

You'd prefer to focus on your business and outsource the video stuff to someone else.

Huge Benefits
As a business owner, you're expected to invest in video content. Video is so important that it's become an integral part of how we communicate and share information with our prospects and clients!
Who is this for?
Established business owners, entrepreneurs, coaches, consultants, experts, strategists, writers, thought leaders, and speakers.
Create professional videos on your own schedule.
I'll record you remotely then edit your videos for you whether it's for YouTube, trainings or other marketing needs. All you'll need to show up for film day.
Plan and Pricing
Create professional video content for your business remotely, no matter where you are, with YouTube Video Kickstarter!
YouTube Video Kickstarter
For Video Newbies
Remote video recording and direction of two videos

Video editing, color correction, audio correction, graphics, and titles

Final output MP4 uploaded to your cloud account

Custom thumbnail creation [optional]
Prices are subject to change without prior notification.
What Our Customers Are Saying
Don't just take it from us, let our customers do the talking!
"Edie helped me create professional marketing videos! The editing, pictures, and transitions went perfectly with my content and the videos turned out great! One of the best parts about the process was that we worked virtually."
"I just made nine videos in one hour! Let me take it even a step further and tell you that I live in the middle of nowhere in Missouri, and Edie is in New York, and yet she's able to produce these videos for me, all nine, in one hour!"
"I am so, so happy that I made the wise decision to hire Virtually In Sync and work with Edie to launch my YouTube channel, produce and edit my videos that helped me create the connection that I have with my audience. She's done quality videos, top rate editing, wonderful thumbnails, suggestions on the content, giving me tips all along the way, and help me to continue to build the momentum."
Is Remote Video Creation for YOU?
Watch the video below to learn more and find out.
Remote Video Creation IS for you if:
You want to create videos to market your business.
You have a budget for video marketing but you're not sure what you need for your business.
You don't know what to do when you get in front of the camera.
You'd love to have a personal videographer but that's just not in your budget YET.
You want someone else to handle creating and marketing your videos for you on YouTube.
Remote Video Creation IS NOT for you if:
You have your own personal videographer on-call to shoot and edit your videos as you need them
You love filming yourself and you have a dedicated "video studio" in your home
You just aren't into this video thang and believe it's a passing phase like Vine was
Your audience isn't on any of the platforms where video is currently prominent and frankly, that's all of them.
Book your Remote Video Creation consultation to see if this service is right for you, by clicking the link below.
If any or all of the above rings true for you, then thanks for taking the time to read this page, but this service and I are not the right fit for you and your business.
So wouldn't it be great if there was someone guiding you through how best to create HD quality videos using just about any device?
Someone who could also provide live feedback as we film your latest masterpiece?
If this sounds appealing then let's get started today!