One of the main motivating factors that drive consumers to purchase services is VIDEO. And you, yes, you, can easily create videos that will motivate and drive consumers to purchase your services.
Create Videos and Build Relationships with Your Prospects
You are building vital and potentially long-lasting relationships with people when you create videos that:
help your target audience solve a problem
answer a question to a common pain point
introduce them to a new tool that saves them time and/or money
show them how to do something they can't figure out how to do on their own
When you create videos for your audience that solve these issues, more likely than not, they will seek you out to solve more of their problems. Creating videos that your target audience needs that can get found easily is key.
Video is the best format to use to get the attention of your audience in order to build relationships. With video, we're able to include more information that is visual, interesting, and memorable, so much more than we can with text.
Audiences engage with you because they find your videos helpful. And they will be so grateful they will begin reaching out to you either to simply say thanks or to ask questions. They will follow you on other platforms and ultimately join your email list.
Create Videos and Build Trust with Your Prospects
"75% of all internet traffic is now streaming video content with that number expected to rise to 82% by 2022." ~ Cisco
Some of us are impulsive buyers. We know we need something. And we may watch a video of it for the first time and purchase right there, be it Instagram, YouTube, or Facebook.
For most of us, however, we are more methodical purchasers. We may not be certain of what we need or why we need it. So we need to be taken on a journey, of sorts, before we are able to make that purchase.
Video does that for your audience. It builds trust with your prospects. And when they trust you, they will buy from you.
What is the State of Video in Your Business?
In 2019, businesses are expected to increase their investment in video content. And as a result, video will become an integral part of how we communicate and share information with our prospects and clients.
Video is so vital to the success of our businesses today. We understand that incorporating it into our emails, social media, online advertisement, and websites enables us to:
Grow our online presence
Engage with our audience
Create brand awareness
When we think about using videos in our businesses, most of us will think YouTube right off the bat. As a YouTube strategist, that's a key focus for my clients as well. However, it isn't the only platform we should focus our energies on. The importance of video has blown past YouTube and jumped to every other platform out there.
Everyone wants to compete with the impact that YouTube has on businesses. And in doing so have added video to their platforms as well.
"Facebook, Twitter, Instagram, and LinkedIn were flooded with video while Facebook reported audiences gaze 5x longer at videos compared to static content." ~ Vidyard's 2019 State of Video Report
To date, the distinct advantage YouTube still holds over all the others is its status as a stand-alone search engine. As a stand-alone search engine, its video content is found easily and quickly through search either on Google or on its native platform. The others can't do that just yet. But nonetheless, using video on those platforms still increases exposure and creates awareness for businesses.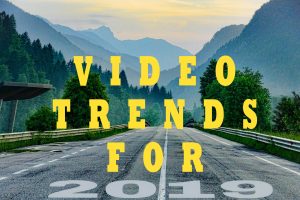 Video Trends for 2019 and Beyond
As a video strategist, I'm always looking for new tools, platforms or ways for my clients and myself to communicate using video. Some new approaches to video include creating video series, video podcasts, interactive videos, and personalized videos. These methods help boost engagement and grow client audiences.
Videos, in general, are becoming easier to create. And, therefore, more of us are willing to experiment using some if not all these latest trends.
Let's review a few of the ways this is happening.
Video Series and Video Podcasts
Podcasts have gained popularity in recent years. And I can't tell you how many times in the course of a day I hear about yet again another new podcast. Video makes this popular method of providing thought leadership content even more intriguing. As a result, video podcasts are also growing in popularity. Whether you're creating video podcasts or YouTube videos creating series-based videos, content is key for finding and growing your audience.
Interactive videos have existed on YouTube for years. The ability to click on a link while watching a video is not a new concept. Not including a call to action in your video is a mistake of EPIC proportions. And I believe including a call to action is so entrenched in us that novices and experts alike understand its importance. What is new is the number of video platforms that now offer this feature and most importantly offer it at a reasonable cost to entrepreneurs.
Another new feature of interactivity is the ability to 'select your own path' in a video. This capability is still new enough that it's not widely used by all businesses big and small. But it's certainly the direction we are heading in.
I've been using personalized videos for the past year or so and will continue to do so even more in the future. To do this, I use a tool called Loom to create personalized one-to-one videos for my clients and a consultation call, review a proposal, or explain what I need from them in detail while sharing my screen when needed. These videos are loved by my clients and prospects who receive them, and they have grown my business in the process.
Vidyard's 2019 State of Video Report offers this recommendation to businesses who have not yet committed to investing in video content and incorporated it into how they communicate and share information with their audience. Partner with a trusted video production agency or seek out freelancers who scale higher-end video productions.
With that stated, the challenge for most of us has been, "How do I create this content without it taking up all my available time and costing me a small fortune?" Regardless of a video's length, creating videos can be costly and complicated. And it can require an expert or a team of experts to execute.
And that's where my newest service comes in.
Remote Video Creation
What if I told you that I could record your videos for you whether they be for YouTube, training, or social media, and deliver them to you quickly? And what if I could do this affordably and without the need to hire a production crew in your local area?
Would you be interested?
Would you be interested in working with me to create HD quality videos using your smartphone or computer webcam as I guide you through the process of directing your entire video shoot?
Would you be interested in receiving live feedback as you are filming your video?
Would you like to be confident knowing that your video shoot is scheduled on a specific day each month or quarter and that all your videos will be recorded at one time? No more trying to figure out each week when you'll record or must cancel a recording due to a conflict.
Would you like to have an easy way to capture your client testimonials in a consistent format and look?
If you answered yes to any or all of the above, then my newest service is for you!
Introducing Remote Video Creation to Create Videos
With Remote Video Creation you'll be able to:
Bulk record your videos the right way
Gain confidence knowing your videos are recorded correctly
Obtain a consistent quality and look to your videos
And you'll have with me there with you every step of the way … remotely, of course.
You can use this service to record your video content for YouTube, social media, b-roll (additional or supplemental) footage, training and onboarding videos, client testimonials, and any other needs you can think of.
What's Included in This Service?
Remote Video Creation Session Details
Up to 3 hours of remote recording
Remote video direction which includes

Shot framing
Smartphone or webcam camera control
Manage video files
Adjust audio and lighting
Upload script for teleprompter use (if required)

Up to 8 videos (5-10 minutes in length)

Video editing
Titles and graphics
Intro/Outro and CTA
Captioning (at an additional cost)
Required for Shoots
iPhone 7 or newer, latest iOS, Android using later OS (Wi-Fi Enabled & Fully Charged) or webcam
A tripod
Microphone (Lavalier or Shotgun)
Nice to Haves for Test Shoot
Quiet space with natural light or ring light to film
Uncluttered background or a backdrop
This is the most efficient and affordable way for you to create your videos for YouTube and for video marketing purposes that will save you the headache and avoid the added expense associated with hiring a local videographer.
Interested? Get Started – Here's How!
Simply book a discovery video session with me today. We'll discuss in detail your needs and whether Remote Video Creation and I are a good fit for you and your business.
You can create videos easily in 2019. Contact Edie Clarke, Video and YouTube Strategist, of edieclarke.com today.
And please, join my Facebook Group to share your videos and comments.