Love Coach Grows Channel to 25K Subs in Under 5 Months
Engaged at Any Age
Executive Love & Relationship Coach

Jaki Sabourin is a successful Executive Love Coach, Keynote Speaker, and CEO of Engaged at Any Age®, a Company that helps women Deliberately Date and Consciously Create the man of their dreams.
Jaki was voted #1 Relationship & Dating Coach of 2018 and is widely known for her popular YouTube Channel "Engaged at Any Age" where's she teaches women to understand themselves first, which leads to connecting on a deeper level with a man who is ready to commit!
Jaki is a Master Coach, and her wit and no-nonsense attitude have led to hundreds of clients as well meeting their ideal match. She married her perfect match at the age of 50 after being single for eight years.
The first interview I had with Edie, I immediately liked her. I liked her practical, no-nonsense approach to everything. She's very direct, very clear in her communications and I didn't have to look any further because I knew that she was for me. She's fantastic at what she does. She's at a mastery level. I encourage you to reach out to her and hire her to take care of all of your YouTube needs that you don't have time to do if you want to be successful in business because she's fabulous.
Key Stats

The Problem

Jaki needed help with her YouTube channel because she didn't understand YouTube, or how to use it.
She needed help filming her videos and was clueless when it came to editing them as well. She wanted to increase the traffic to her channel, get more subscribers and views, and grow her email list so she could target them with her services. Then she needed direction on how to create her videos so she would attract her ideal audience.
Jaki knew that using videos would only enhance her expertise and expose her to a much broader audience and in addition to using Facebook, she understood the power of YouTube.  She just wasn't sure how to grow her channel and she didn't have the time nor inclination to learn how to do it for herself.
The Solution

The challenge/solution was two-fold.
Because Jaki wanted to increase her organic reach (viewers who found her videos through search results) and she wanted to increase her subscribers really quickly we needed to revamp a few things.
First, I audited her channel and researched her competition.  Based on my findings, I discovered that Jaki's best approach would be to continue creating the same video topics in addition to newly-researched and optimized topics that would broaden her appeal.
Although her topics were what her existing audience wanted to learn about, the videos she uploaded to YouTube were all repurposed Facebook live streams.  This was a problem because non-YouTube live streams don't always play well on YouTube.  So I asked that she limit the repurposing to maybe once per week and that she create new videos once or twice per week.
It became quickly apparent that her video views came from her Facebook followers and her email list.  So we needed to get viewers who needed her but had no idea of who she was to find her videos.
The solution…
First, she needed to create videos that were in demand in her niche and her demographic and optimize them so that a new audience could now find, watch, and engage with her videos.
The second part was a little harder and would be based almost entirely on Jaki.  In order for her channel to grow as quickly as she wanted it to grow, Jaki had to be motivated, committed and consistently creating new and fresh content that her target audience wanted each and every month without fail.
And this she did.
YouTube channel gains over 13K Subs in less than 5 months.
Organic reach traffic sources comparison between 2017 to 2018.
Traffic from Google grew exponentially in 2018 as shown in the image on the right versus its non-existence in 2017 as indicated in the image on the left.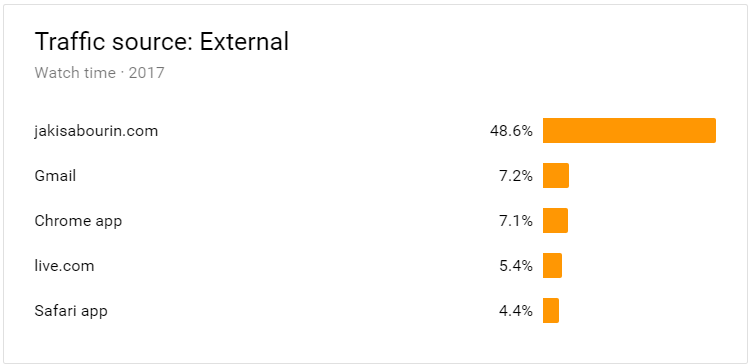 Video Editing

Keyword Research

YouTube Channel Audit

Channel Management

Video Optimization

Video Strategy
Are you ready to get these kinds of results? Want to grow your channel and online presence using YouTube?
As a Video Strategist, my philosophy is to help you create and market videos that will attract your target audience that will get you seen by your ideal clients using basic video software, tools and most importantly YOUTUBE.
So if you're ready to go from invisible to influencer, from a confused state to a state of clarity, from not getting clients to getting clients, well then,
I'm your video gal!